Price spikes, supply shortages, and alarming blackouts have dominated the energy sector's front page. After a turbulent winter for energy markets, the industry and the imperative to decarbonize it are being heavily supported by regulatory incentives on both sides of the Atlantic. 
For the first time in history, investment in the energy transition eclipsed investment in fossil fuels in 2022. The former totaled $1.1 trillion, growing $261 billion from the previous year. The figure includes renewable energy, electrified transportation, and electrified heat as well as smaller but growing investments in breakthrough technologies like hydrogen, carbon capture and energy storage. 
According to the IEA, global renewable energy capacity is expected to grow to over 440 GW in 2023, making it the largest annual increase ever. As renewables' share of the electricity mix increases, it simultaneously means an increase in weather-dependent variable energy production. This will create more demand for flexible power sources that can balance the grid during low-production hours from wind and solar. 
Lying right below our feet, geothermal energy provides a vast clean firm power source. Emerging technologies are now making it more widely accessible, and in a growing number of locations worldwide. 
Revisiting geothermal energy today 
Harnessing heat from the Earth to produce energy is not a new idea. Countries like Iceland and Indonesia rely on geothermal power for the majority of their electricity. Historically, geothermal energy production was restricted to high-enthalpy regions, where the natural terrain and conditions were most suitable for production, most commonly near volcanoes.
Today, however, a suite of emerging technologies are unlocking geothermal's potential in a wider set of environments. This means geothermal is on the path to becoming an economically viable and technologically sensible solution also in regions whose geological formations don't enable natural access to underground heat. 
In 2022, geothermal power plants existed in just seven US states, with states like California and Nevada representing prime locations for geothermal production. Geothermal energy accounts for only 0.4% of energy generation in the US. Globally, around 16 GW of geothermal generating capacity was estimated to be in use in 2020, while the estimated full capacity potential is close to 600 GW.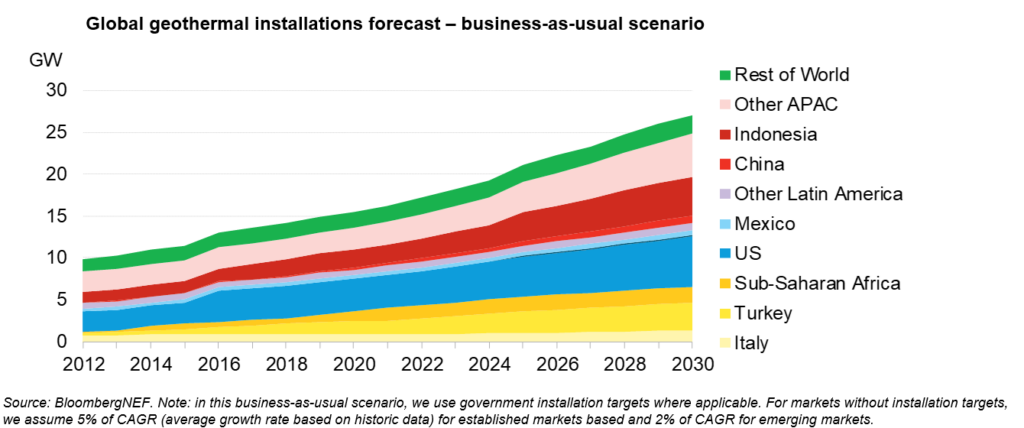 Source: BloonbergBNEF
Progress in geothermal projects has historically been hindered by many factors, including risks associated with site exploration, public opinion, financing, and technological limitations related to accessing the required depths. However, the imperative to decarbonize energy production combined with sustained turbulence in energy markets is popularizing geothermal and dramatically changing its role in energy security. Geothermal similarly experienced increased demand during previous periods of energy insecurity, such as the oil crises of the 1970s and 1980s.
Geothermal's road to economic viability
The Earth constantly generates around 44 TW of heat, making it a limitless source of energy. If a technological breakthrough were to make it economically viable to harness that energy in historically unsuitable regions, it would dramatically accelerate the path to decarbonizing power generation. This type of breakthrough could unlock heat and pressure at relatively shallow depths, ranging from 600 to almost 10,000 feet beneath the surface. Besides decreasing costs, this would also minimize upfront risks related to drilling. 
As visualized on the map below, geothermal's potential is much greater if areas with increased depth requirements are considered. In the BCG analysis below, dark green regions represent high-enthalpy areas, where geothermal energy projects already exist. In these areas, heat circulates with groundwater and produces hot springs or geysers. Light green areas represent low-enthalpy areas, where projects have to go further below the surface to access sufficient amounts of heat.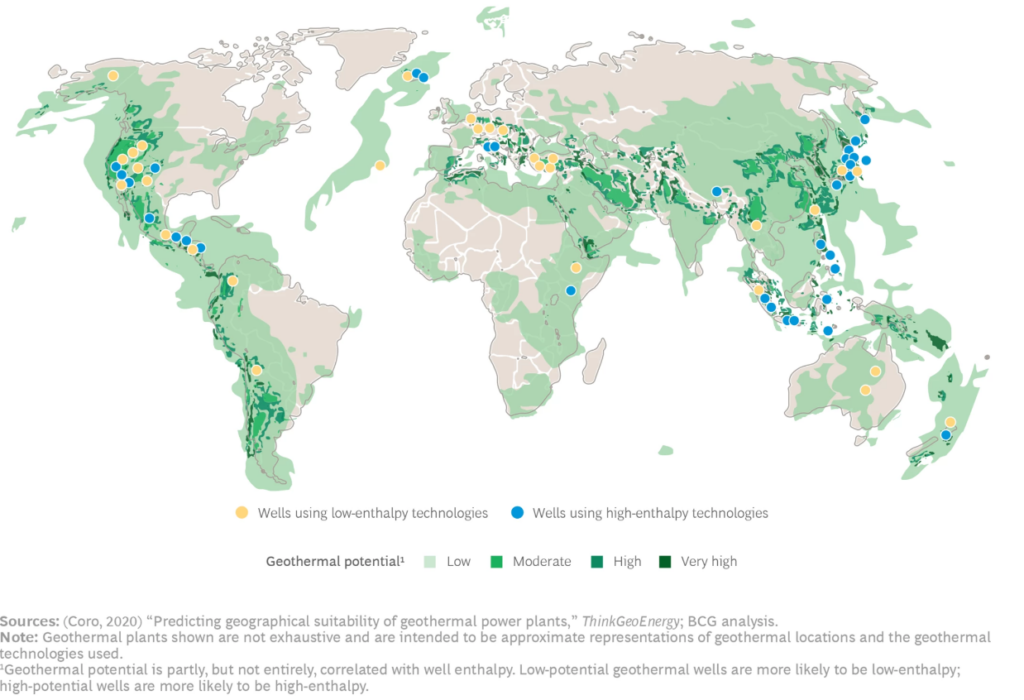 Source: BCG, Geothermal potential per region
According to Boston Consulting Group, the levelized cost of electricity (LCOE) for new greenfield deep geothermal projects is approaching $100/MWh. Lazard's latest LCOE research estimates that the geothermal LCOE could reach as low as $61/MWh, with a facility output of 250 MW and capital cost ranging between $4,700 – $6,075. And, the U.S. Department of Energy is increasingly supporting geothermal projects with the aim of reducing their cost. The Enhanced Geothermal Shot was launched in 2022, aiming to reduce the cost of enhanced geothermal systems by 90%. 
The Inflation Reduction Act, launched in 2022, also favors geothermal energy development, especially when it comes to residential heat pumps. IRA tax credits offer 30% tax incentives to households to improve their energy efficiency, where shallow geothermal heating and cooling could provide a perfect fit. The US Department of Energy has a program called FORGE (Frontier Observatory for Research in Geothermal Energy) that aims to make geothermal economically feasible in all types of locations by de-risking the associated technologies.
Novel technologies and process innovations
Historically, large geothermal and subsurface drilling projects have been risky, often coming in over budget and sometimes resulting in induced seismicity (like in South Korea in 2017). However, innovative new technologies aim to address these risks through novel approaches to drilling, well design, and sustainability, like preventing water pollution and excess water use.
Siting a geothermal project depends on an area's heat flow and underground geology. Traditional geothermal projects primarily focused on utilizing hydrothermal resources. Projects have been located in countries and regions where geothermal resources are easily available, in other words, cheaper to drill and operate. Shallow geothermal heat pumps have also been used for residential purposes. In this way, novel technology innovations are able to harness geothermal potential in new areas, while simultaneously mitigating the project risks that were previously roadblocks. 
New technological developments loosely fall into two categories: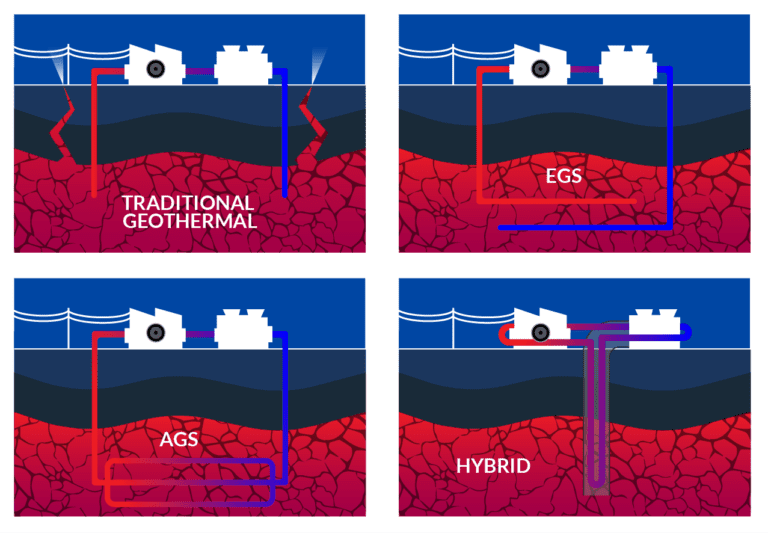 Source: Powermag 
While many geothermal projects consider 30,000 feet as their maximum depth, there is increasing interest in ultra-deep geothermal. This would unlock access to heat of 300+°C, which would be over 100°C warmer than shallower projects and could significantly improve the project's economics.
Geothermal projects are evolving from pure firm power generation into multiple revenue streams by maximizing the well utilization and byproducts created during heat extraction. The working fluid, typically water, and process steam can be utilized in steam and heating applications in addition to conventional power generation. The heat gain is sustainable for applications with low-temperature requirements, for example, in district heating systems or for agricultural use. The geothermal process also enables extraction of critical minerals such as lithium and silica. 
Previously, the high cost of extracting minerals during geothermal processes limited these opportunities, but increasing global demand for transition metals like lithium is changing the situation. Extracting lithium and silicon from geothermal fluids is more sustainable than greenfield mining. These new revenue streams could significantly increase the overall potential of geothermal projects, and could benefit public acceptance of these projects. 
In the future, novel opportunities such as hydrogen production and carbon storage could also be linked to geothermal projects. Geothermal hydrogen production is already being piloted in Taupo, New Zealand by Halcyon Power, producing 180 tons of hydrogen annually. While these are long shots, they demonstrate why we should pay more attention to what's happening below our feet.
2022 marked a major year for geothermal startup progress
Like many other energy generation projects, geothermal is typically capital-intensive. But high project uncertainties, bold ambitions to unlock geothermal in low-enthalpy areas, and sustainability considerations have been key drivers of startup activity in the space in recent years. Today, startups are innovating across the value chain with the common goals of lowering the levelized cost of energy production, reducing the risks associated with new developments, and expanding access to previously unavailable locations. 
The majority of startups in the geothermal sector are offering novel technology alternatives to geothermal project development and operations. In addition, an increasing number of startups are focusing on niche parts of the process, providing novel materials and working fluids, as well as sensing software for project evaluation. However, the most advanced startups cover multiple stages of the value chain, for example by combining novel drilling technology with planning services.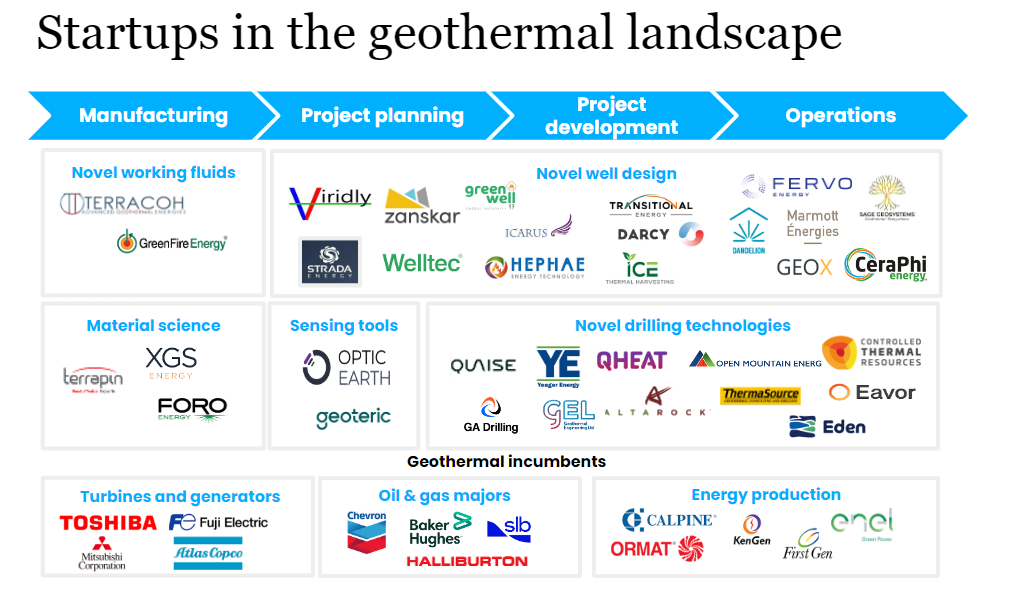 Sources: CTVC, Pitchbook, CBInsights, Venture Radar, Company web pages.
Highlights across three categories in the geothermal startup space
1) EGS/ AGS: The split between innovations in Enhanced and Advanced Geothermal Systems appears to be equal.
2) Project design: Cost savings and efficiency improvements can be gained in project design. 
3) IRA's tax impacts: IRA favors residential heat pumps as US households are entitled to a tax credit of up to 30% of home energy efficiency improvements.
The future of geothermal is bright
As we navigate this critical decade, decarbonizing the power sector will play a key role in helping other sectors electrify. Currently, fossil fuels make up over 60% of electricity generation globally, and in order to reach net zero by 2050, this share must drop to 26% by 2030. 
Thanks to a host of technological innovations helping expand its viable sites and reduce its costs, geothermal now has the potential to deliver firm power to complement the increasing amount of intermittent renewables being developed.
Even the oil and gas industry is taking note, as they can apply their domain expertise in drilling and well operation to the development of geothermal energy.
If you are a geothermal startup or expert in the space, we would love to hear about your solutions and research. Please contact our investment team at hello@valoventures.org.