Decarbonizing the planet's economy, whether for transportation, agriculture, the built environment, or industry implies a massive shift to electrification. Instead of burning fossil fuels to generate electricity for our current and future energy needs, switching to renewable and carbon-free sources has the potential to contain the risks of a changing climate.
While governments make long-term political commitments to reducing national emissions, voluntary and early action to pursue carbon-free energy purchases by a handful of corporations like Google, Apple, Amazon, and Microsoft has given way to a much larger global corporate movement to commit to 100% renewable electricity. 
Last year, 55 companies joined the RE100, a global initiative that is bringing together large corporations committed to 100% renewable purchases across all major commercial sectors. Today the total number of members is 418, which collectively represents an electricity demand in excess of 440 terawatt-hours (TWh). 
The current surge in clean energy commitments underscores the urgent need for reliable methods to validate the renewable nature of the procured electricity. This ability to validate the integrity of clean energy consumption claims is at the heart of a successful energy transition. 
Why EACs fall short in today's volatile electricity markets  
Alongside Power Purchase Agreements (PPAs), Energy Attribute Certificates (EACs) have played a pivotal role in clean energy procurement for over two decades.
EACs empower buyers to make deliberate choices about the source of their electricity, validate that its origin is from renewable resources, and then virtually match it to their actual energy consumption, a process called "canceling," to avoid double-counting. Unfortunately, in practice, today's EACs can't actually guarantee 100% renewable energy consumption.
EACs primarily operate on an annual matching cycle, a drastic oversimplification of reality, which allows energy consumption on a windless winter night to be tagged as consuming excess renewable energy generated on a windy, sunny summer day. 
These prolonged matching periods can lead electricity buyers to unintentionally consume fossil-based electricity, despite paying a premium for renewable certificates. A study by McKinsey (see excerpted chart below) showed that in many cases, purchasers of PPAs only achieved about half of the emission reductions expected. This misalignment hinders our progress towards comprehensive and transparent grid decarbonization.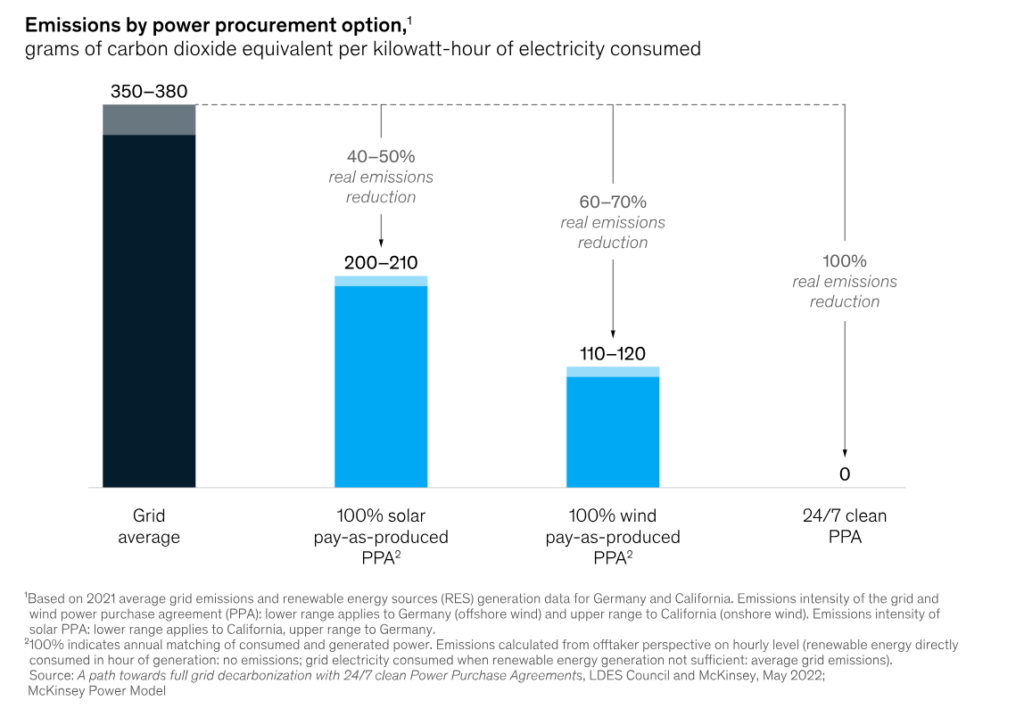 In addition to the issue of time granularity, clean energy certificates ideally must also incorporate location-specific information. The absence of this dimension can result in unintended consequences, for example, when renewable energy capacity is installed in a region without adequate consideration of the available transmission capacity between geographic areas. 
By addressing both time and location granularity, we can enhance transparency in energy procurement. This approach also provides a dynamic representation of the true value of green electricity production and consumption.
Granular Energy: Accelerating 24/7 carbon-free energy with clean energy trading and management
Granular Energy provides a unique software platform to manage, match, and report on green electricity. The platform helps energy suppliers, brokers, traders, and market participants allocate green electricity to customers through their matching software, at any time granularity, ranging from annual assessments down to sub-hourly evaluations, in accordance with market dynamics.  
Their end-to-end certificate management platform is accelerating the development of new green offers with hourly matching and time-stamped certificates, which send high-precision price signals to the grid to boost decarbonization. The platform combines critical information across certificate registries, carbon accounting platforms, and auditor information in one solution.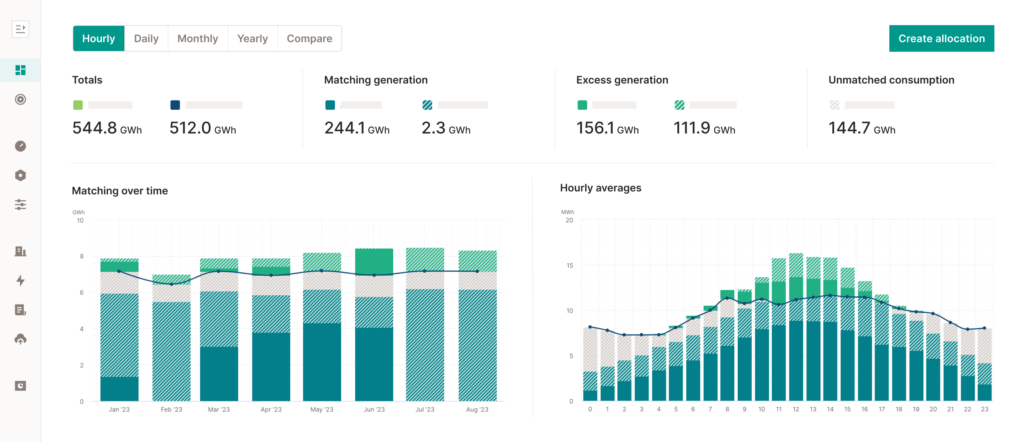 Utilities are not known for quick decisions, yet they are essential gatekeepers for the world's energy procurement and any 24/7 matching solution must involve them. Granular's easy-to-use software and low-friction engagement model is rapidly gaining substantial traction, with a customer base and active engagement with 25 utilities, collectively representing 50 terawatt-hours (TWh) of consumption.
Why Valo Invested in Granular Energy 
Given our Managing Partner Scott Tierney's background at Google, Valo has been actively monitoring developments in the 24/7 clean energy matching space since our inception. As a result, we met the Granular team with a prepared mind.
Granular's deep domain expertise, the low-friction onboarding process for utilities, and easy-to-use, attractive software resulted in one of our fastest-ever positive investment decisions.

Team background and experiences:

Granular Energy's founding team has deep energy, trading, and software domain expertise. CEO Toby Ferenczi was the founder of

EnergyTag

, the leading non-profit organization shaping

standards

for the hourly renewable energy certificates market, giving us further confidence in this stellar team. EnergyTag successfully attracted over 100 key stakeholders from across the value chain, including the world's largest utilities, energy consumers, grid operators, startups, and energy certificate players. Granular Energy continues this mission by offering cutting-edge software solutions tailored to utilities and energy traders.




The Granular team today

Precise electricity matching required for net zero credibility: To achieve comprehensive grid decarbonization, precise time-and-location-matched electricity production is essential. 24/7 clean energy matching boosts trust and transparency in energy attribute certification, ultimately underpinning the credibility of corporate net-zero claims.

Regulatory developments in favor of 24/7 matching:

Increasingly, regulation favors granular time-matching of clean energy certificates as part of a broader effort to decarbonize energy use. In the EU, the

Renewable Energy Directive

is the first to establish rules for green hydrogen that will require hourly matching by 2030, and allows member states to move even earlier (from 2027). Other jurisdictions are debating their own rules, and voluntary pledges are coming like US President

Biden's 2021 executive order

for the government to procure 100% renewable energy, of which 50% must be hourly matched. 24/7 matching is poised to play a pivotal role in the adoption of emerging net-zero technologies like hydrogen and long-duration energy storage (LDES). In the foreseeable future, fulfilling net-zero commitments may become nearly impossible for companies without 24/7 matching capabilities.

EAC market growth:

In response to customer demand, the EAC market is experiencing strong growth, particularly in established electricity markets. EAC prices have surged more than 15-fold in recent years, and the energy certificate market is projected to expand from a $12 billion market to a staggering $100 billion market by 2030. 

Source: Precedence Research

Efficient price signals to balance clean energy supply and demand production:

As the share of weather-dependent and volatile renewable energy generation continues to rise, electricity markets are confronted with increased volatility. Consequently, efficient price signals are essential to balance supply and demand in clean energy production.

Emerging net-zero technologies, such as LDES and hydrogen production by electrolysis, are becoming integral components of our energy systems.

Hourly or sub-hourly matched clean energy certificates will guide investments toward additional green electricity projects where and when they matter.
Granular Energy represents a class of enabling tools that will underpin the successful deployment of both existing and incoming net zero technologies. 
If you are a startup enabling the clean energy transition, reach out to our team at hello@valoventures.org to start the conversation.