A single menstruator is estimated to use up to 15,000 pads and tampons in a lifetime, sending a lot of waste to landfills. Sadly, those wanting sustainable period care products that do not require challenging lifestyle changes have lacked options — until recently.
Co-founded by Dr. Liv Ahn and Aaron Koshy, Fluus® is a London-based sustainable period care company that has designed and produced the world's first fully flushable, biodegradable, and microplastic free period care pad. 
Since leading Fluus' Series Seed in 2021, we have been impressed by the progress the team has made to scale production and further product development. I was in London for their product launch last month and thought it was timely to sit down with Liv to hear more about what sets Fluus apart and what's in store for the future.
Mona: What originally inspired you to co-found Fluus® and what continues to drive you today?
Liv: My journey started in medical school when I was trying to reduce my own consumption. I found it incredibly hard to reduce my environmental impact when I was on my period, as biodegradable and reusable products didn't perform as well as their plastic counterparts. And, reusables demand lifestyle changes of the user, which I found very difficult to adopt and maintain—especially as a medical student at the time working long shifts.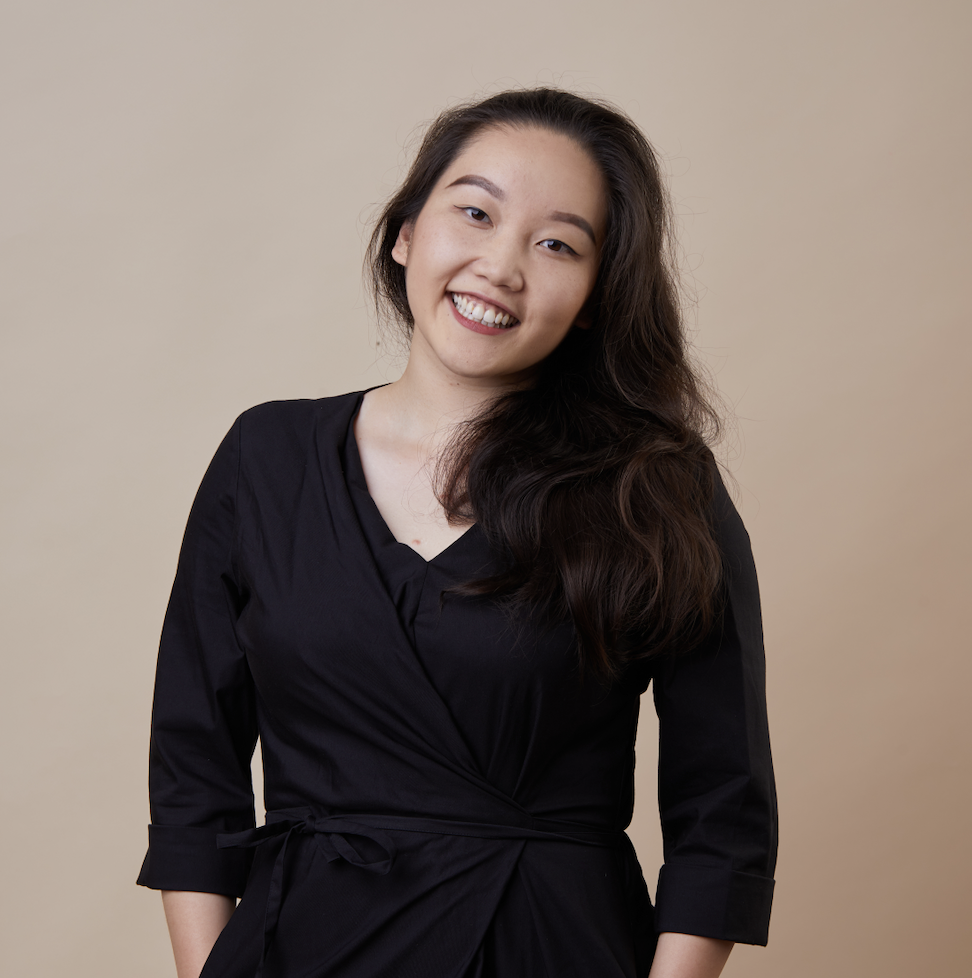 I began to think that companies should take responsibility for the products they are creating, and should not be pushing the burden of disposal to consumers. After all, companies have a corporate responsibility to consider what happens to their product and its packaging once used. 
Then in 2016, I met Aaron at university, and found that we shared the same vision. We set out to create a zero waste pad that didn't compromise on performance, usability or convenience…and so, Fluus was born! I am still driven by this same vision, and it continues to be the foundation of Fluus today. 
Mona: Every part of Fluus' period pad and packaging is certified as flushable, which is unique. Can you share more about the technology behind "Flushtec®" that makes it possible to flush Fluus® pads?
Liv: Flushtec® is the proprietary technology we developed to use in our pads that makes them flushable. It is a microplastic free technology which combines biodegradable materials and a first-of-its-kind manufacturing process. This guarantees that Fluus pads pass the UK water industry's flushability guidelines.  
The pad is made up of three main material families: cellulose plant fibers, our patent-pending biodegradable polymer core and barrier, and tree sap as our plastic free adhesive. It is the combination of materials and product construction that ensures our pad is both absorbent and flushable. 
Once flushed, the volume of water and hydraulic action of the flush tears the pad apart. It breaks down even further as it travels through the drainage system. The broken-down pad arrives at the water treatment center as cellulose plant fibers, roughly half the size of an eyelash. These fibers safely pass through the screens where they are broken down further and treated. Through the treatment process, biogas can be produced which is used as renewable energy. 
Mona: Fluus really emphasizes flushability. Why is it so important? There are other period products out there that are biodegradable – isn't that enough?
Liv: We conducted research with 2,000 people in the UK ahead of our launch and found that more than 1 in 3 consumers (37%) admitted to flushing a pad, and of those who flush, over half (52%) do so monthly. Considering every disposable pad aside from Fluus contains microplastics and therefore should never be flushed, it's worrying to think about how contaminated our waterways are becoming. That's why our launch champions our mission to stop blockages in pipes, microplastics in waterways, and permanent waste in landfills created from period products.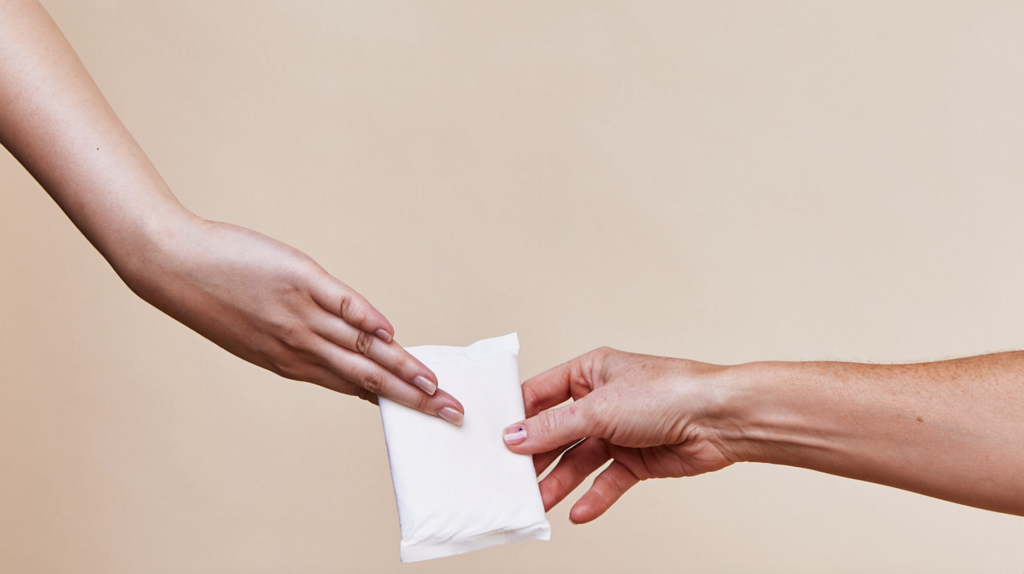 Fluus pads are also biodegradable, so if they are binned and not flushed, they will biodegrade in the right environment. The challenge with other biodegradable pads is that they require the right environment to biodegrade away, which cannot be guaranteed in landfill. Also, biodegradable alternatives still contain microplastics (for example, in the adhesive used), which will take over 500 years to degrade.
So, no, biodegradable alone is not enough!
Mona: It sounds too good to be true! Do your customers have to give something up in exchange for flushability?
Liv: No! The user experience of a Fluus pad was designed to be very much like using a conventional disposable pad. Our topsheet feels soft and not "plastic-y" like other disposables. I'm a strong believer that people will do the right thing when it is the easy thing. It was therefore important that a Fluus pad must be easy to use, comfortable to wear, and perform at the highest level. So that is what we have delivered!
Mona: What has been a milestone for Fluus that has been particularly meaningful to you?
Liv: We launched our first marketing campaign last month, and seeing Fluus on a huge digital billboard in Waterloo, London's busiest station, was exhilarating. Fluus has been many years in the making, so finally seeing our pad in the wild is exciting.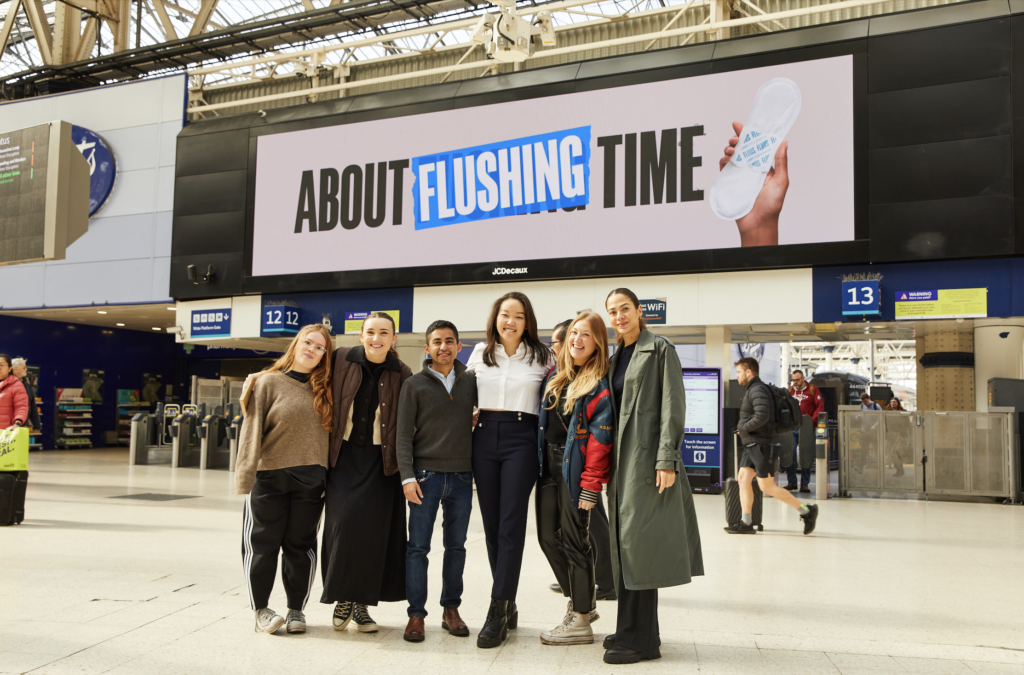 Mona: What has the customer feedback been so far? What is it that is driving purchases of Fluus?
Liv: Hearing about the positive impact we're having on people's lives is so motivating! This week we received an email from a mother of two teenage girls – whose daughters were both incredibly anxious about being on their periods at school. Their mother told us that Fluus has given them a new found confidence – and it's a story that we hear a lot. Whether the problem is that there's no bin in the toilet cubicle, or you're staying at a friend's house and don't want to leave behind evidence of your period, Fluus gives you back the control and offers stress-free, discrete disposal. 
Eco anxiety is another key driver. With 200,000 tonnes of period waste ending up in landfill every year (that's equivalent to 10,000 fire engines or 1,000 Statues of Liberty!) – it's not hard to see why consumers are looking for a zero waste alternative. The incumbent solutions on the market are just not sustainable. 
Mona: I'm sold! Where can I buy Fluus today??
Liv: Fluus is currently sold exclusively through our website. We have plans to expand our distribution to reach more people—both in the UK and internationally—to get the world flushing Fluus!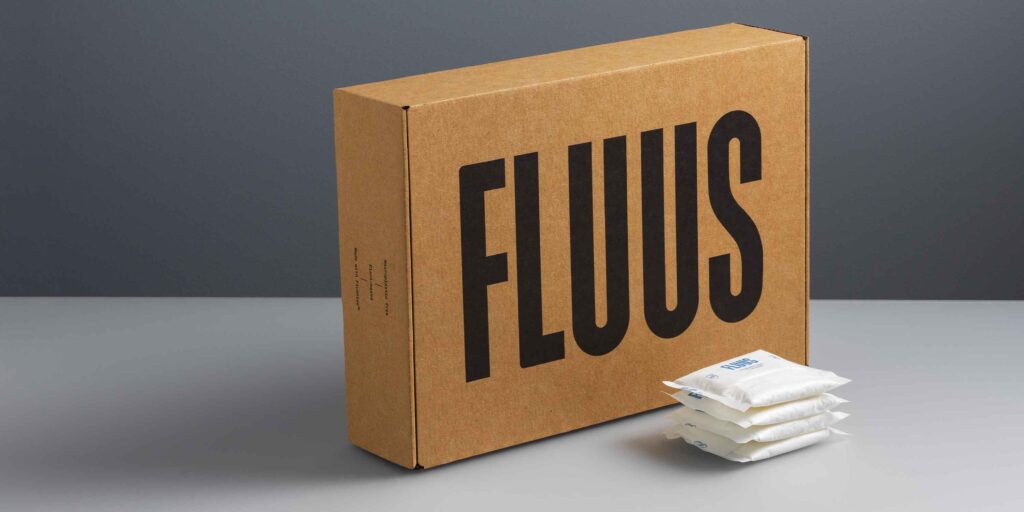 Mona: You recently spoke at the UNWomen at CSW67 on the topic of Innovation in Menstruation, which sounds like a huge honor. Can you share more about that experience?
Liv: I joined other speakers who drive innovation in this field with data analysis, critical journalism and business-building. All are focused on improving the lives of women across the globe. 
I was honored to be one of the voices championing the rights and equality of women and women's issues, as my personal mission is focused on consumer products for women. I spoke about challenges for women in the consumer market, ranging from the pink tax (not an official tax but a price uplift on items marketed to women e.g., women's razors), dangerous assumptions on product development based on the male average data sets, and societal taboo topics. 
Whilst COP (Climate Change Conference) is in its 27th year and receives much global press coverage, CSW (Commission on the Status of Women) is in its 67th year but faces an uphill battle for changing the status of women. Sadly, the press coverage for highlighting much needed topics is still as much of an issue for women today, as it was 67 years ago. So I was proud to be a part of it and would love to see it receive more attention going forward.
Mona: If you can share, what's next on the horizon at Fluus?
Liv: As well as continuing our mission to eradicate microplastics and permanent waste in the period industry by expanding Fluus' distribution channels, we also have some exciting product developments on the horizon—watch this space!
Explore additional Valo portfolio companies here.