A team from Valo attended CERAWeek and the Agora Innovation in Houston in early March, together with a record-breaking 8,000 other people. In this article, we've distilled the top ten topics in climate tech and the energy transition that caught our attention, as well as the innovative startups delivering exciting solutions.
1. The clean energy transition is officially mainstream
While many of last year's CERAWeek discussions understandably revolved around the war in Ukraine and energy security, the clean energy transition took center stage this time. And Houston's Mayor Sylvester Turner declared that the former energy capital of the world is now "moving forward as the Energy Transition capital of the world."  
The Inflation Reduction Act was cited as the critical stimulus since CERAWeek's 2022 conference. The IRA was "as seismic as Russia's invasion of Ukraine last year," according to John Podesta, Senior Advisor to President Biden.
2. "Hydrogen is coming faster than we think."
This quote from Carlyle Group's Head of Energy, Marcel van Poecke, encapsulated the momentum behind hydrogen. It was the most discussed topic at CERAWeek with 264 mentions on the agenda. 
Lots of time was spent highlighting emerging regional hydrogen hubs. These hubs are developing around centers of renewable energy all over the world—from hydropower in Brazil and Chile, to solar power in India, to wind and hydropower in the Nordics. Other centers of legacy talent and infrastructure, such as Texas and the Arabian peninsula, are also vying to host hydrogen hubs.
In the US, $8 billion of public funding has been allocated to create these hubs and multiple projects have expressed interest, as visualized in an interactive map by Resources for the Future.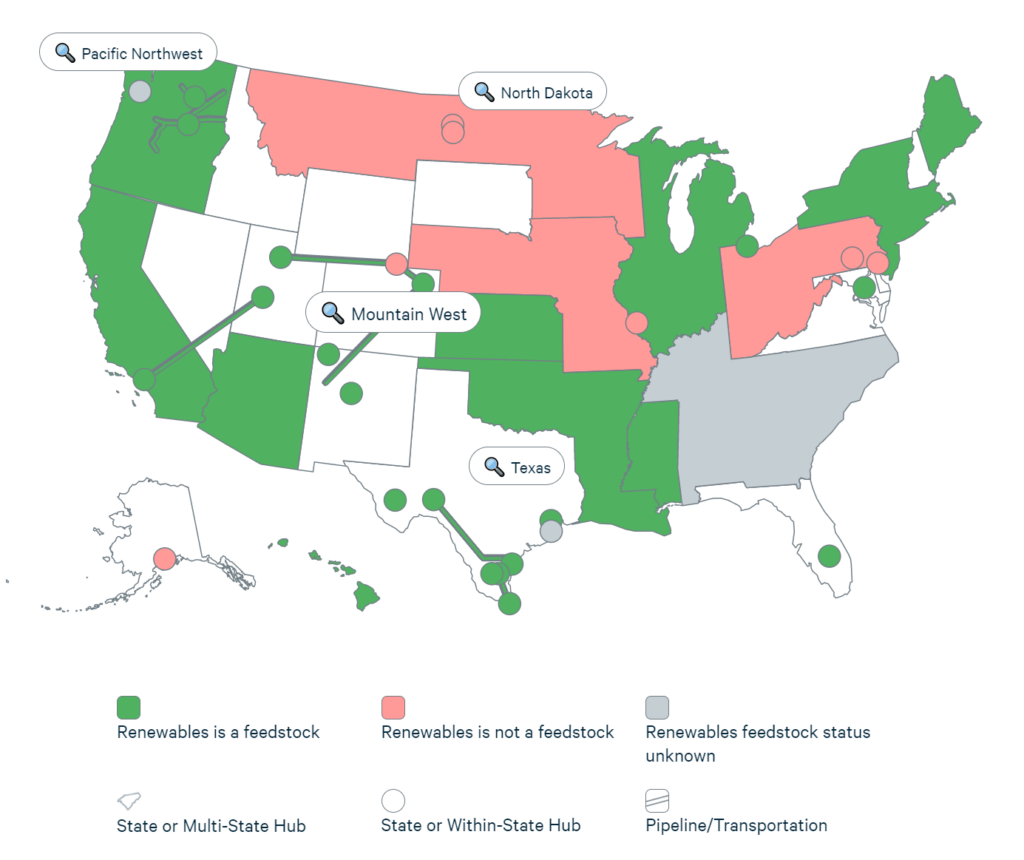 3. Climate tech is a systems play
Collaboration to build out climate tech systems must occur on the geopolitical, public/private financing, and supply chain levels. Climate tech often requires longer development timelines, more technical risk and the construction of harder assets, so signing up captive demand is vital.
As the EU and US expand their partnership to reduce the green premium across numerous industries, it will be critical to manage any hints of a trade war and work together to build out the metals, materials and renewables required for the energy transition. Collaboration between companies within different emerging cleantech industries, such as hydrogen, is also vital to create vertically-integrated solutions.

4. Direct Air Capture is considered a viable solution 
There has been a clear shift in the sentiment around direct air capture, thanks to a couple of key drivers. Firstly, there are now meaningfully-sized projects under construction in the US that have moved beyond the planning phase. For example, Oxy's plant in Texas will capture 500,000 tons of CO2 per year when fully operational. Secondly, carbon removal credit providers are locking in longer-term contracts. For example, Climeworks signed a 10-year carbon removal agreement with Microsoft last year for its second facility being built in Iceland. And governments are doing their part by offering significant subsidies for DAC. 
5. Fusion has published product roadmaps
Many panels discussed the potential for fusion, and we are starting to see roadmaps to commercial fusion power plants being published and shared, as the timeline below from CleanTech Group shows. Some of the market leaders include Commonwealth Fusion Systems and TAE Technologies, both of which participated in a panel discussion about the future of fusion. 
While other energy generation technologies—such as fossil-based or solar/wind-based—are restricted by access to natural resources, fusion is only constrained by the talent it can attract. Access to the absolute best expertise is crucial for companies aspiring to lead this revolution.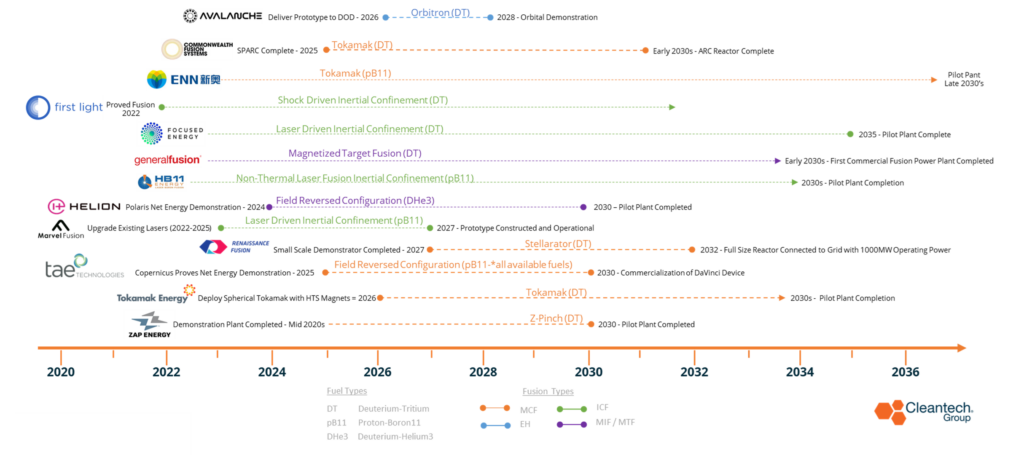 6. Carbon is not the enemy
Carbon dioxide in the atmosphere is causing global warming, but carbon itself is a building block for the world around us. In the world of carbon capture, utilization and storage (CCUS), the storage path still dominates the agenda, but many startups delivering on utilization were featured among the panels and pods at the Agora Innovation side event to CERAWeek. 
Startups such as LanzaTech, Dimensional Energy and Dioxycle showcased their solutions for "carbon recycling" and converting captured carbon into fuels, chemicals or materials.
7. Biodiversity loss is a major risk
The UN Environment Programme (UNEP) and S&P Global announced the launch of the Nature Risk Profile, a new methodology for analyzing companies' impacts and dependencies on nature. Tension and trade-offs exist at many decision points—for example, 29% of mines in key biodiversity areas are for energy transition-related minerals. We expect the biodiversity issue to continue to command attention from corporations, as organizations like the Taskforce on Nature-related Financial Disclosures (TNFD) and the Science Based Targets Network (SBTN) attract members and followership. S&P experts drew parallels between the pace at which the Taskforce on Climate-related Financial Disclosures (TCFD) became the standard over the past seven years, as TNFD gets underway.
8. Quantum technology is not a science project anymore
Quantum computing holds the promise of massive increases in computing speed with just a fraction of the energy use. And quantum technology isn't a science project anymore. It is now an engineering challenge, and startups like Multiverse Computing are creating value for the energy sector through quantum computing. A recent McKinsey study estimated that using quantum computing to accelerate technological development could help eliminate more than 7 gigatons of CO2 equivalent from the atmosphere per year by 2035.
In a panel discussion, the state of the industry was compared to the Wright brothers' airplane: flying at low altitude only for a moment, but foreshadowing commercial flights in the near future.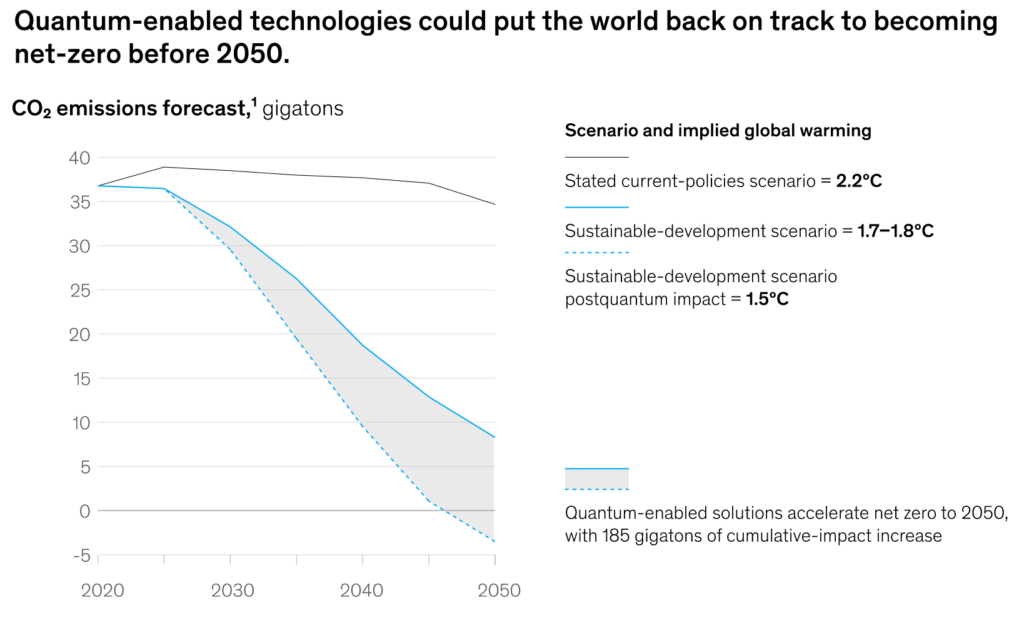 9. The talent gap is large, and we must galvanize the younger generation 
The average age of the NASA engineers who launched us to the moon was 28. Our current moonshot is reaching net zero, and in order to get there we need the pace and drive of the younger generation. This was a message from William McDonough, one of the trailblazers of sustainable design. 
The talent gap for climate technology was mentioned in many discussions during the conference. The need for engineers and electricians has been covered repeatedly, but there are also needs at the intersection of technology and business. 
In response to this pressing demand, innovative startups are stepping up to bridge the talent gap by creating cutting-edge solutions that match job seekers with suitable roles, upskill the workforce, and boost productivity.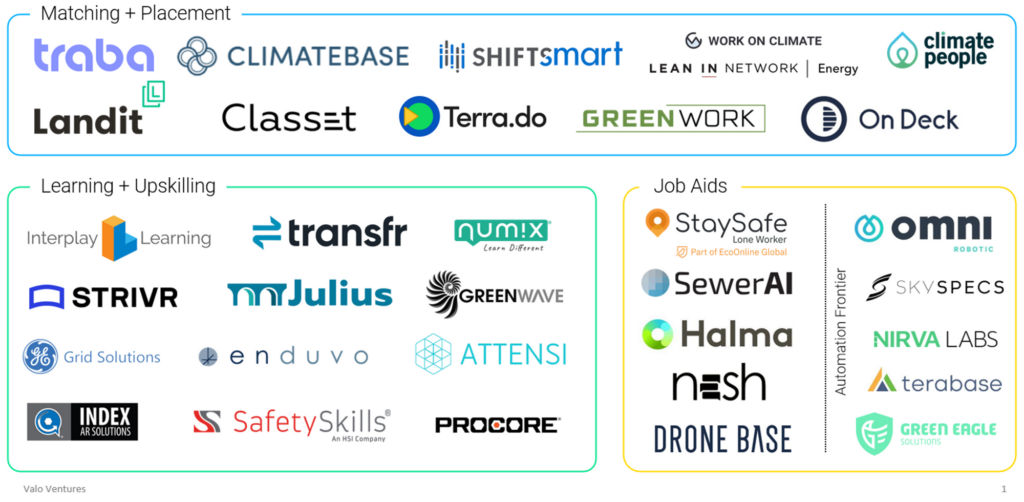 10. Generative AI is benefitting the energy sector 
Continuing with the theme of workforce learning and productivity, generative AI and large language models are weaving their way into the energy sector. As the hottest technology topic this year, their presence was evident at CERAWeek in fascinating examples like Houston-based Nesh, which is harnessing generative AI to virtualize and democratize subject matter expertise for technical teams.
When it comes to industry-specific applications of large language models, we are still in the early stages of development, and it's safe to expect that we'll see many new players entering the market in the upcoming months. As one of the panelists mentioned, AI is a theme that will likely receive an even brighter spotlight at next year's event.