Novoloop:

Transforming plastic waste into circular sustainable performance materials.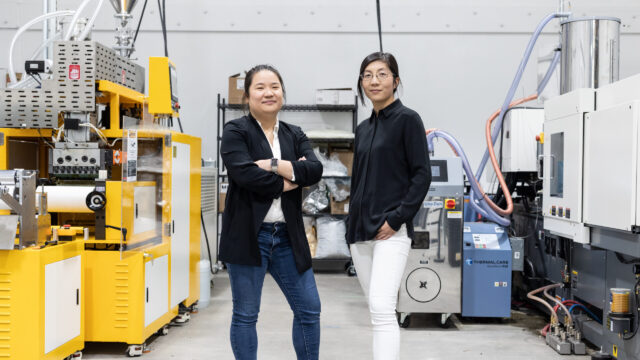 Demand for plastics is forecasted to double between now and 2050, while recycling rates are stuck at less than 10 percent.
Plastics are a lightweight, durable, affordable material, but their production generates about 4% of global GHG emissions. Polyethylene plastic is the world's most common type of plastic, yet less than 10% is recycled and virtually none is upcycled. Novoloop's proprietary chemical upcycling technology transforms mixed, contaminated waste polyethylene that would otherwise go to landfill or be incinerated into building blocks that are a platform for superior-performance sustainable materials.
Novoloop's novel process reduces the CO2 equivalent emissions of end products by up to 40%. Compared to traditional recycling methods, Novoloop enables a localized plastic circularity network radically simplifying supply chains and transforming a waste stream into valuable materials without asking customers to pay a green premium.
Q & A with Novoloop
What motivated you to found your company?

I grew up in an immigrant family, where most of my family friends were entrepreneurs, and I dreamed about building a company. After visiting a waste transfer station as a high school student and seeing how much plastic is not recycled, my co-founder and I began to innovate solutions to solve the plastic problem at the industrial scale. What started out as a science fair turned into a TED talk, my college capstone project, pitch competitions, and eventually evolved into a meeting with Bill Liao at SOSV, who convinced and funded us to found Novoloop. Since then, we've evolved the technology, but what moves us has remained the same since that day at the waste transfer station.

Why did you choose to partner with Valo?

To bring a new industrial technology to scale and build a successful business, we look for investors who are mission-aligned and resourceful. Since the start of our relationship, Valo has been hands-on and helpful in connecting us with relevant stakeholders. They are leaders in climate investing with an impressive track record and a diverse team.