Totaling roughly $2 trillion in combined stimulus efforts, passing the Inflation Reduction Act (IRA), Bipartisan Infrastructure Law, and the CHIPS and Science Act marked a historic effort by the US to catalyze private investment into clean energy, manufacturing, and transportation.
One particularly exciting result of this multifaceted stimulus is its impact on generating millions of high-quality jobs, which our transition to a predominantly clean energy economy hinges on. 
One study by BlueGreen Alliance estimates that over 9 million new clean energy jobs will be created over the next decade as a result of the IRA, with two-thirds of these jobs created from its tax credits, grants, and loans. The remainder will be generated by direct stimulus from the Department of Energy.
While the IRA is a historic boost for the clean energy economy and the American workforce, it will not be executed without growing pains. In many ways, the Achilles' heel to the success of our clean energy transition is the build-out of a trained workforce, and there is growing concern about the gaps in skilled talent we are facing.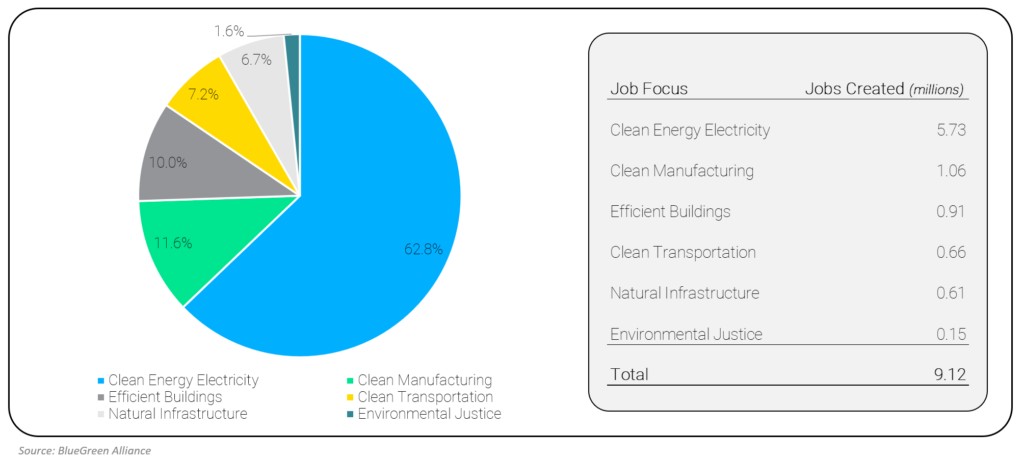 At Valo, we have been exploring five potential hurdles to developing this workforce, and how technology can support climate-related talent development as the country navigates towards our net zero targets.
Hurdle #1 – Finding and retaining clean energy talent
While the IRA is expected to spur new job creation, finding and retaining employees for these industries already presents challenges. In 2021, 89% of solar companies reported difficulties finding qualified applicants. This is a particularly tough problem to solve as these positions are often skilled trades that require new certifications to perform.
Solving this friction in finding and retaining talent with the right skillsets is key, and culprits such as outdated recruiting methods, age and gender bias in hiring, and high turnover must be addressed. With so many incentives being deployed by federal policy, investing in studying how to efficiently and equitably grow this workforce is vital.
Hurdle #2 – Rapidly upskilling the current workforce with clean energy skill sets
Both past and projected job creation data show that the majority of new jobs fall into a few core skill categories—engineers, technicians, construction workers, mechanics, electricians, manufacturers, and other skilled positions in health and safety, planning, and project management in the built environment. McKinsey estimates that roughly 10% of these new jobs can be filled by migrating talent from easily transferable roles within the fossil fuel industry. However, for the remaining 90% of new job openings that can't easily be filled, more robust education and training resources will be essential.
Vocational schools sound like a good solution, but they are often slow to launch new training curriculums and certification programs. Meanwhile, government retraining programs are notoriously disliked, and apprenticeships operate at too small of a scale to ramp up the millions of workers needed. Programs like Stanford's new carbon dioxide removal focus at the Doerr School of Sustainability and LSU's new carbon capture, utilization, and storage (CCUS) concentration are leading indicators of an evolving educational system, but the options today are still falling short of what's needed to upskill the current workforce for the immediate needs of the clean energy transition.
Hurdle #3 – Clean energy jobs with harsh working conditions are hard to fill and rife with gender disparities
Imagine a day in the life of a wind turbine technician (an occupation with one of the highest rates of injury) inspecting a blade hundreds of feet above the ground. Or the day of an engineer in a gigafactory manufacturing chemicals for batteries. Consider what it is like being a utility-scale solar installer during a hot Texas summer.
Finding solutions that make these physically demanding jobs safer is imperative to filling them, reducing turnover, and encouraging healthier and longer clean energy careers. While we cannot remove the factor of height from a wind turbine technician's job, or the hot sun from a solar installer's day-to-day experience, technology can reduce the risk associated with these environments and ensure that safety best practices are maximally adopted.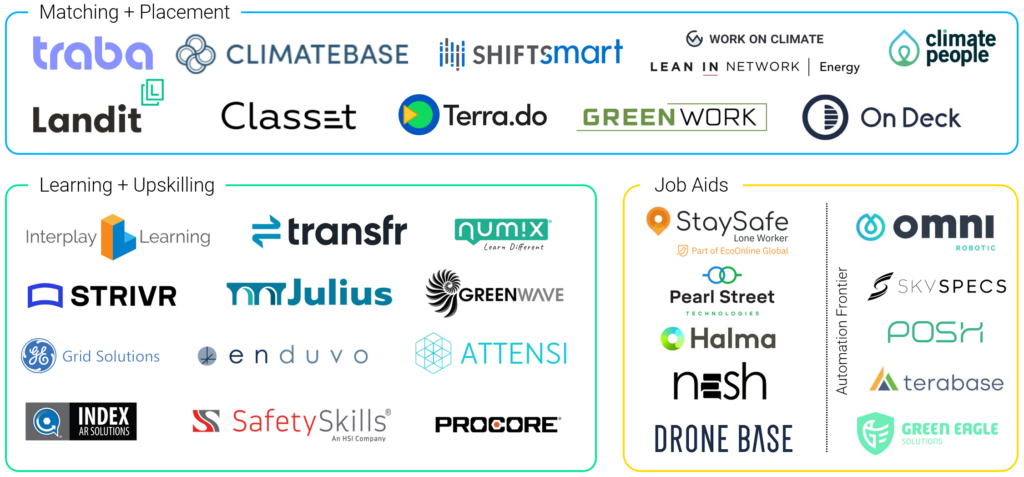 Challenge #4 – Regionality and seasonality of jobs
As the IRA accelerates clean energy job creation, there is a simultaneous loss of fossil fuel-related positions as workers move to renewable energy jobs. Though we need to phase out coal and other carbon-intensive energy jobs, we must remain mindful and proactive about the individuals who will be hit hardest by the winding down of these industries. Unfortunately, the locations of new clean energy projects are not correlated to the locations of displaced fossil fuel workers.
The value chain of clean energy infrastructure holds the bulk of labor in the installation phase, meaning that if displaced workers retain a renewable energy project, it is likely to be a short-term and non-permanent position. This is already a problematic issue across manufacturing broadly and we should strive to mitigate this across the growing clean energy workforce.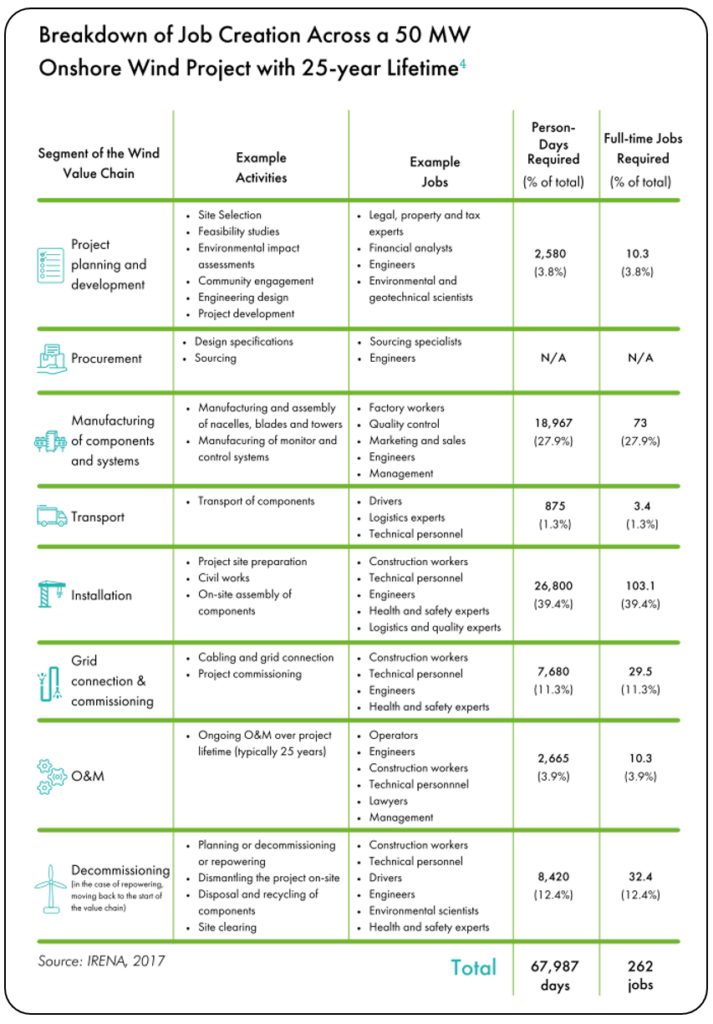 Hurdle #5 – The clean energy industry needs greater gender inclusivity
Driven by the sheer physical demands of solar installation, this is just one of many clean energy-related jobs that is male-dominated. Some of the most in-demand energy skills today are among male-dominated fields, for example, electricians (98% male), and civil engineers (84% male).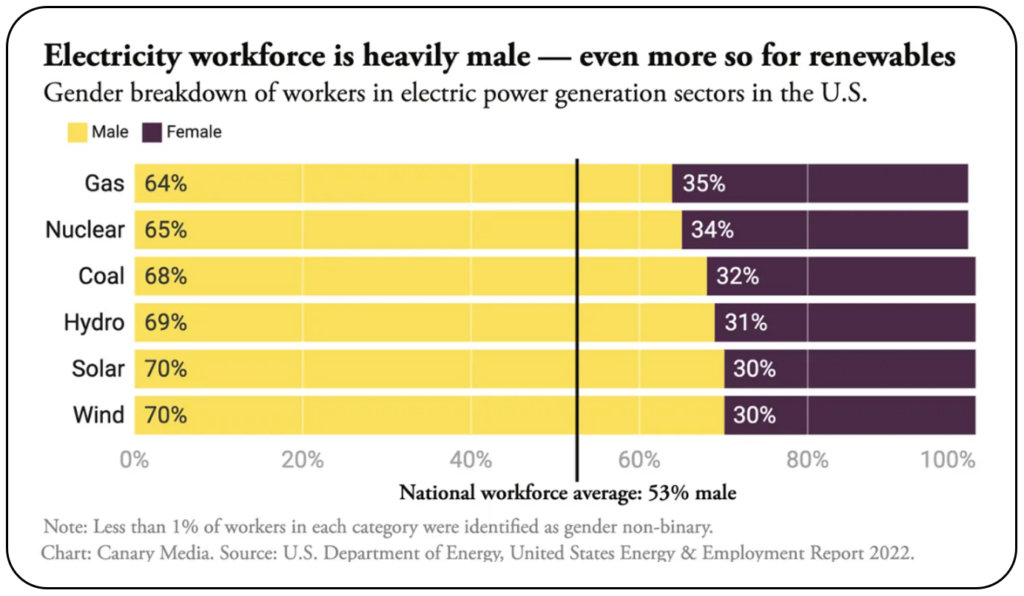 Flashy headlines about innovation tend to capture our imagination, but it is important to recognize that deploying clean energy solutions is contingent on having a trained, relevant, and available workforce.
Our success in bending the emissions curve invariably depends on this workforce of the future.
…
Please reach out to our investment team at hello@valoventures.org if you are building a company supporting the future of our clean energy workforce.