Boston Materials:

Upcycling high performing carbon composite materials for industry.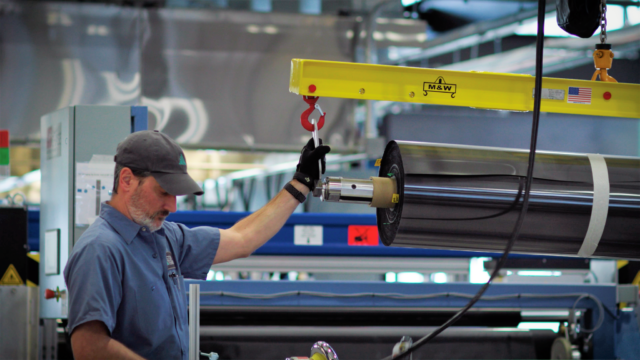 Production of virgin carbon fiber creates 30% scrap which often ends up in landfills.
Advanced materials, such as carbon composites, are vital for decarbonizing industries because they help lightweight products through their higher strength-to-weight ratio. But despite this advantage, their embodied carbon still has a negative impact on the environment. A significant amount of the embodied carbon is locked up in the production of virgin carbon fiber which creates 30% scrap that often ends up in landfills.
Boston Materials has the potential to reduce the embodied carbon impact by up to 40% by reducing carbon fiber waste. Their proprietary process uses reclaimed carbon fiber as an input, making it both cost-effective and scalable while being environmentally friendly. Their lightweight, Z-axis Carbon Fiber product is reducing the carbon footprint of the transportation and electronics industries, and enabling the adoption of high-performance, lightweight parts that are vital to our efforts to decarbonize industries.
Q & A with Boston Materials
What motivated you to found your company?

I grew up in a part of Massachusetts that had a ton of shuttered manufacturing companies. With this backdrop, I always wanted to start a manufacturing company to make products that make a difference in the world, but I was not sure where to begin. When I saw the breakthrough work in composite materials done by Dr. Randy Erb's group at Northeastern, I was 100% sure that it was my ticket to chase my dream. The first step was working on a senior-year capstone project to start scaling up a new material that we had created, Z-axis Carbon Fiber. After finishing the project and proving to myself that Z-axis Carbon Fiber can change how we design and build everything from laptops to airplanes, I took the plunge to found Boston Materials.

Why did you choose to partner with Valo?

Our future needs high performance products that are sustainably produced. Accordingly, incorporating the elements of performance and sustainability into everything Boston Materials does is a priority for me. Valo not only supports this vision, but has internalized it within their investment thesis. Also, their questions and feedback during the diligence process showed that they spent the time and energy to truly understand Boston Materials. The alignment with their core mission and attention to the important details made Valo a clear partner for Boston Materials.