Valo Ventures led the Series A for eduMe in 2020. Keen to find a way to empower workers with the knowledge they need to be successful, we were thrilled to find London-based eduMe. We were impressed by the product, a mobile-first, media-rich way of delivering smart content where and when deskless workers need it. It is consumable in a format that resembles best-in-class social media. We were also impressed by Founder and CEO Jacob Waern, who brought a wealth of experience managing global businesses.  
Since we have invested, we have seen the company go from strong to stronger. Having started out with a gig-economy-focused customer base, who were their early adopters, the company has since branched out to serve customers across multiple verticals with its inherently horizontal solution. Powered by synergistic partnerships with the likes of Workday, Microsoft Teams, Beekeeper, and Skedulo, eduMe is spreading its wings and taking flight.
I was recently in London for our board meeting, so I took the opportunity to sit down with Jacob to talk about how far they have come and what the future holds.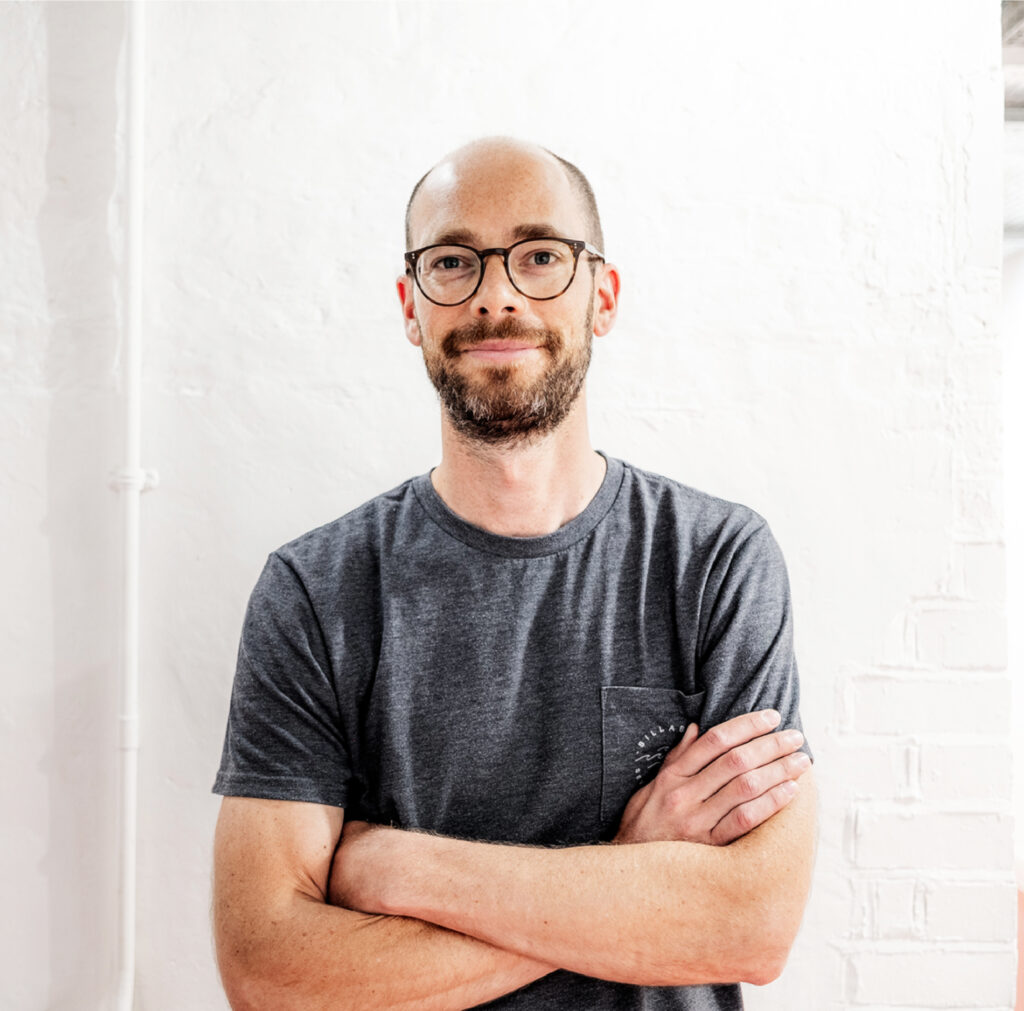 Mona: For readers who are not familiar, what does eduMe do?
Jacob: eduMe is a training tool born to serve an underserved segment of the workforce—frontline workers—who operate across industries including retail, hospitality, healthcare, manufacturing, on-demand delivery, and logistics. 
Though this demographic makes up 80% of the global workforce, the companies they work for don't possess the ability to reach them with knowledge in a way that's straightforward, scalable and engaging.
Since our founding in 2016 we've partnered with companies like Uber and Marriott to help equip their workforces with knowledge that drives improved outcomes around productivity, performance, retention, safety, and compliance.  
Mona: eduMe addresses many customer needs. What is the number one problem you're solving for?
Jacob: We're providing seamless access to relevant knowledge, which is something deskless workers do not have today. Underneath that we're solving for multiple problems simultaneously — simplified content delivery, ease of content creation, providing engaging, immersive, personalized learning experiences, and finally, making data interconnected and easy to derive meaningful insight from. 
Mona: There are other potential solutions out there to train workers, but I would argue that eduMe is unique in its accessibility. Can you talk about  how you have designed your product with accessibility in mind for frontline workforce training? Why is this so important?
Jacob: Users of technology today have zero tolerance for meandering, multi-stepped digital journeys. Account creation, forgotten password retrieval, app download, and app switching are all friction-filled experiences where you run the risk of losing the user altogether. 92% of users will discard a log-in when they have forgotten a password rather than undergo the reset process. 
eduMe facilitates a situation where the training these workers receive truly meets them where they are, in whatever digital flow they're in, and without friction. 
Indeed, the fact that they may be leaving one app for another is imperceptible and seamless. EduMe requires no passwords or account creation—they click and are dropped in. Clients see a 98% training engagement rate from this—3x higher than those using Single-Sign On. This highlights how drastically you can alter engagement by simply removing a log-in screen.

Mona: Sadly, a mere 16% of employees worldwide are engaged at work—you could say we have an employee engagement crisis. What is eduMe's role in today's ecosystem of solutions addressing frontline workforce engagement?
Jacob: No worker is looking forward to downloading a 17th app to do their job. We believe that the future of learning is embedded, and by integrating and embedding ourselves in an ecosystem of mission-critical tools such as Workday and Microsoft Teams, eduMe can deliver seamless access to relevant knowledge as we sit within an existing workflow.
The idea is that everyone has a different tech setup, and we want to be able to seamlessly fit into whatever that is for our product to work in a way that's intuitive and low lift for our partner companies.
If they are not already using a third-party human capital management or communications tool, eduMe can be seamlessly integrated into their proprietary app or into other channels they may use, such as SMS and email.
Mona: In an era of disengagement and "quiet quitting," what have you learned about designing content for deeper engagement?
Jacob: Not all content is created equally. You can have the most frictionless entry into your product, but if a user is met with content that does not hold their attention, then it's less effective. 
The same impatience the modern learner has around app accessibility applies to the speed at which they can lose interest in the training content. Attention is at a premium and disinterest can be sparked in a mere second. 
We counter this by building features that make training personalized through short-form and video-centric content, which is most importantly  'active'. It involves the learner and requires their input in some way. Whether that's tapping into progress, reacting, responding to a quiz or survey question, walking through an AR environment, having the autonomy to determine which way to take a simulated training scenario, or even by enabling them to create the content themselves for a ground-up, social approach to learning.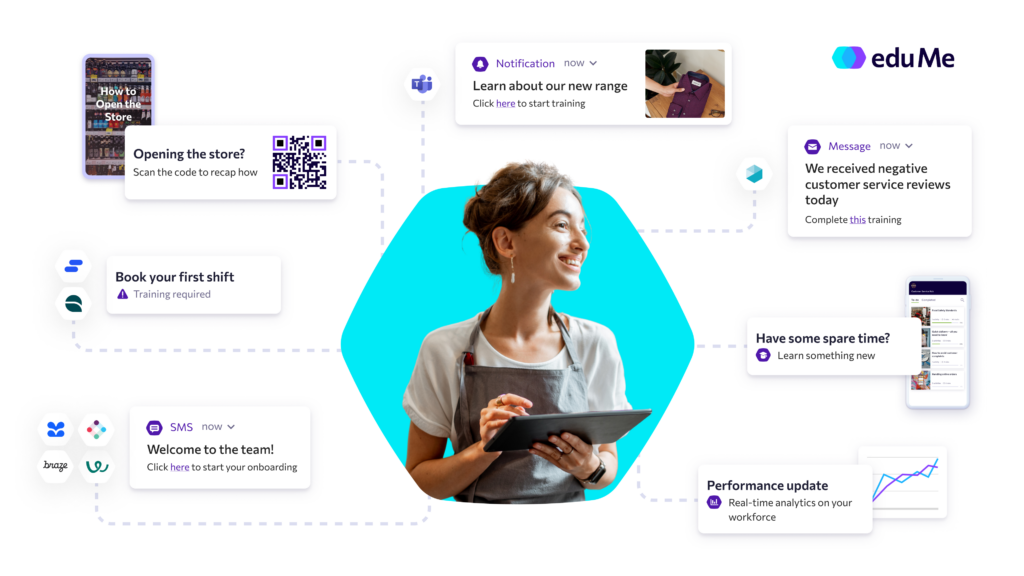 Ultimately, the more engaged the learner is, the more likely they are to remember the training, return to it, and even promote it among their peers.
Mona: eduMe has several recent wins and milestones. Could you share a few that are particularly meaningful?
Jacob: We recently acquired a platform called Playbook and integrated its technology into our core product to build on our commitment to an immersive, engaging learning experience. 
The style of training Playbook's integration has enabled has been dubbed 'TikTok for Learning' by our clients for the familiar, tappable, short-form, and social media-style feel it evokes. Already we're seeing learners' receptiveness to and affinity for content delivered in this manner, with high completion and satisfaction rates of up to 98%.
We also recently integrated with Microsoft Teams—the most widely used collaboration application in the world—so that companies using this software have means to access their deskless workforce and enrich everyday conversations with ongoing, personalized learning experiences that deliver greater value and optimize frontline performance.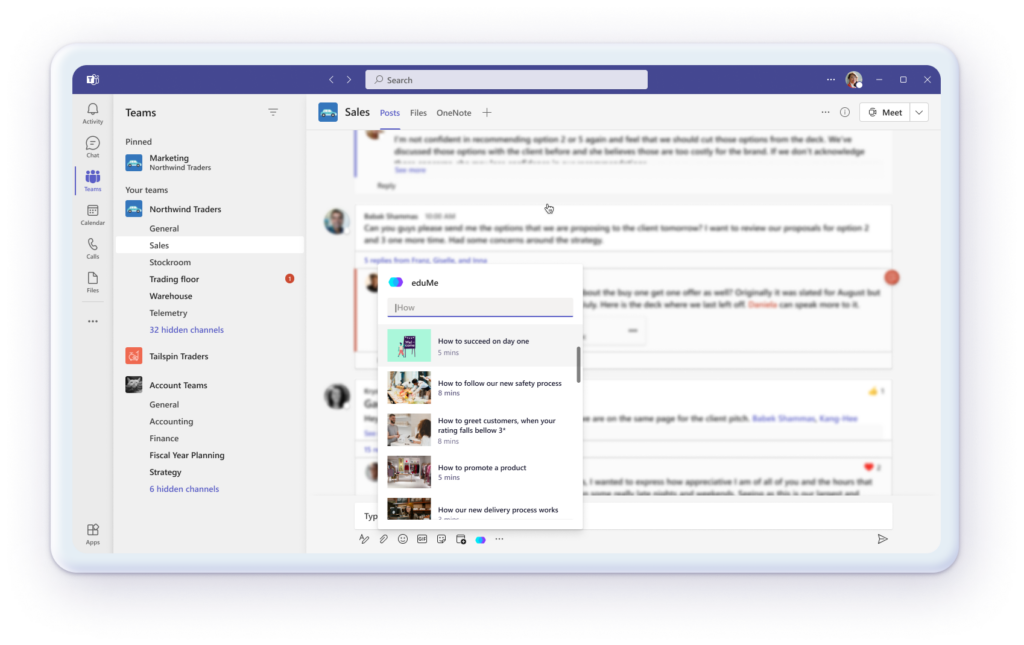 By integrating eduMe into Microsoft Teams, users of the software are able to create, deliver and track performance of training without ever leaving the Teams interface. When training is sent or scheduled to a chat or channel, the recipient's experience is seamless – they simply click and are dropped straight into it. 
This is an example of 'push'-style training, where a creator surfaces training, a learner is notified, and they click for access in the moment of relevance. It is also possible to facilitate a complementary 'pull'-style scenario by adding eduMe as a Teams menu item and creating a permanent knowledge hub. This is a destination for training that employees can consult at their own will.
Mona: What's an unexpected yet powerful lesson you've learned as a founder?
Jacob: Perhaps this is not so unexpected, yet it's extremely impactful: the need to focus on doing one thing really well. I believe most entrepreneurs are optimistic by nature and want to try and do everything. This is especially true when building a more comprehensive feature set that is capable of solving different necessities for a customer. And it's easy as a passionate founder to overstretch when it comes to solving a problem for lots of different audiences. Several times over the course of founding eduMe I've either been forced or forced myself to do less and focus on solving for one thing, for one audience – and to do that really well. Doing this well has certainly catalyzed our growth.
Mona: What does the future hold? What's on the horizon that you're most excited about?
Jacob: I'm really excited about the ability to bring knowledge into the hands of everyone performing a deskless job in order to help them be successful. And we want to do this in a way that's entirely seamless and relevant to each individual. 
For current eduMe customers, we're looking forward to making their lives easier as well, with upcoming platform features such as a new AI-powered content creation capability that we're launching soon. This feature allows companies to auto-populate a lesson with relevant text based on a prompt input so that eduMe AI reduces the time it takes to create learning content. Thanks to generative AI, content creators no longer need to start from scratch and are empowered to significantly accelerate this process.